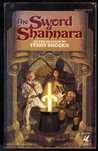 The Sword of Shannara by Terry Brooks
My rating: 2 of 5 stars
The Sword of Shannara is an epic fantasy novel about a vale man torn from his normal life and thrown into a quest to retrieve the Sword of Shannara and destroy the Dark Lord to save the world as he knows it.
The Bad Stuff: This book has some stark similarities to Tolkien's Lord of the Rings. There is a Dark Lord, black wraiths, small vale men, elves, a strange wizard that disappears on other errands and a crazy gnome who has a magical item. This really irked me. There is also some repetition, overuse of words and a writing style that tells rather than shows.
The good stuff: The storyline is good and would be enjoyable for those who have not read the lord of the rings trilogy, or those that will not be bothered by the similarities.
In my opinion, this is a good fantasy novel, let down by the fact that it is so similar to another authors work and yet, not quite as good. For this reason I'm only giving it 2 out of 5 golden bookmarks.